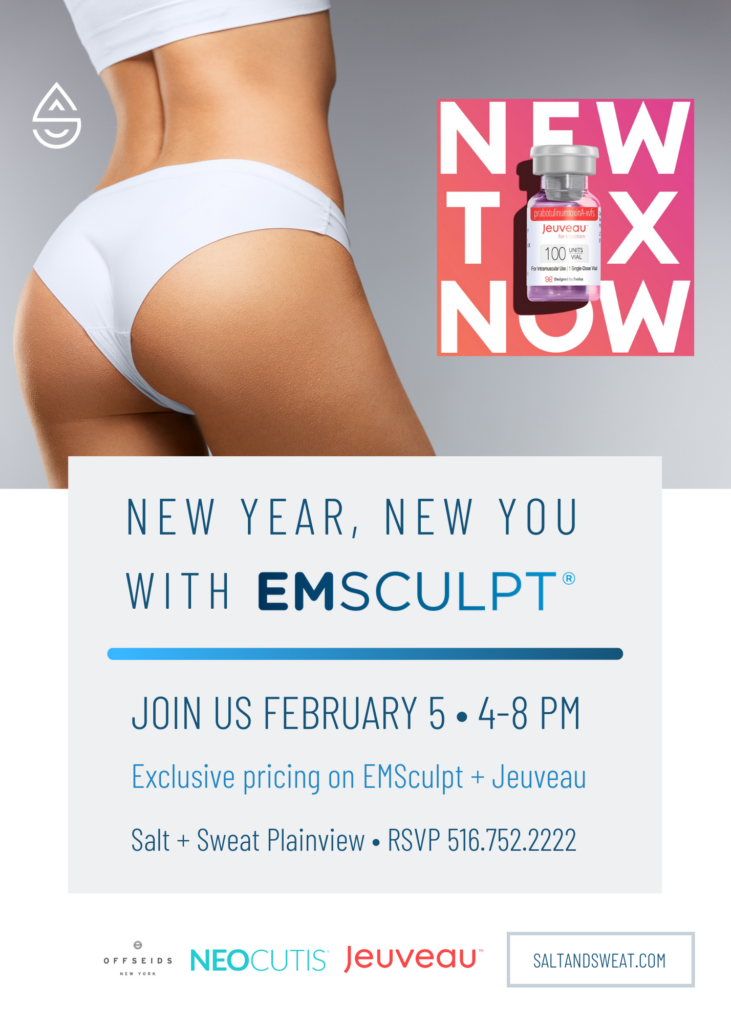 New year, new you with EMSculpt!
Long Island, NY – Join us on February 5th from 4-8 PM at Salt + Sweat Plainview (1491 Old Country Rd, Plainview, NY 11803) to celebrate the launch of our newest treatment, EMSculpt. The only device in the world that builds muscle AND burns fat!
EMSculpt is the first FDA-cleared energy device approved to burn fat and build muscle mass. It's a no-downtime, pain-free, non-surgical way to define abs, lift the butt, and sculpt the arms. EMSculpt contracts muscles beyond what is possible through physical training, yielding better muscle tone and enhanced fat metabolism. A single treatment is equivalent of doing 20,000 sit-ups or squats.
Our goal at Salt + Sweat Wellness is to provide a best in class experience with our innovative treatments and technologies. Leave looking good, feeling great, and prepare to see your performance skyrocket!
Our New Year, New You Event features exclusive EVENT ONLY pricing on EMSculpt and Jeuveau. The ultimate new year glow up with Jeuveau with Dr. Bonnie Rosen, Off Seids Clothing, and Neocutis skincare.
RSVP today by calling 516.752.2222. We have limited spots available!
Salt + Sweat – Plainview
1491 Old Country Rd, Plainview NY 11803
RSVP: 516.752.2222