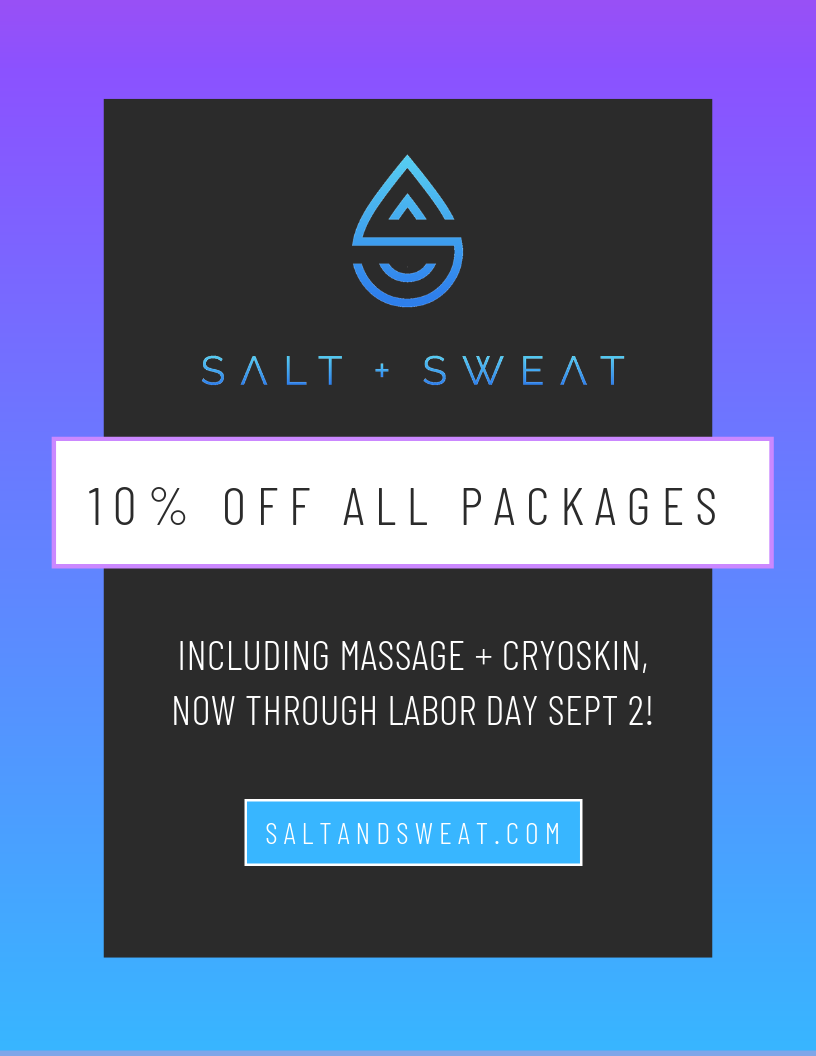 Summer Shred! Now through labor day, enjoy 10% OFF ALL packages, including Massage and Cryoskin with promo code: laborday10.
Take time to slow down, relax + unwind this holiday weekend! You deserve it! What is your favorite way to de-stress after a long week? The better we feel, the better we heal!
#GetZen ? Our infrared sauna + body wraps help maintain healthy levels of cortisol (the stress hormone). ?〰️ Lowered cortisol levels lead to a feeling of deep relaxation ? that extends beyond the session, even improving your quality of sleep. ? Are you ready to experience the power of infrared heat?
#GetHealed with a relaxing massage ? Muscles might be the richest benefactors, but most people report a feeling of pure relaxation, reduced anxiety, enhanced, attentiveness, and improved mood following a massage. Now add salt ? to your massage treatment and prepare to heal! ? ⠀⠀⠀⠀⠀⠀
#GetSlim 〰️❄️? Cryoskin gets rid of that unwanted fat! ? Thermal treatments to sculpt parts of your body when regular diet + exercise just won't do it! 〰️ 28 minutes, no pain, quick results, with 0 downtime.
#GetSalty ? Suffering from summer allergies? ? Our salt room treatment is safe for adults, children, and even babies. ? The salty air is also safe to be inhaled by expecting mothers. 〰️ All you have to do is sit back + relax! ? Walk away feeling like you've spent the day at the beach! ? ⠀⠀
#GetLit ✨ Bye bye blemishes & wrinkles ? Give yourself the skin you deserve! ? Lightstim, our red light therapy treatment, is a great add-on to your Wrap Session! 〰️ When this beneficial light is applied directly to the skin it can reduce fine lines and wrinkles, temporarily increase blood circulation, and treat mild to moderate acne. Glowing skin is just 20 minutes away.
---
*10% OFF packages valid on all services, now through September 2nd (Labor Day). This discount only applies to packages, it is not valid on single sessions or memberships. Use promo code: laborday10 for discount.